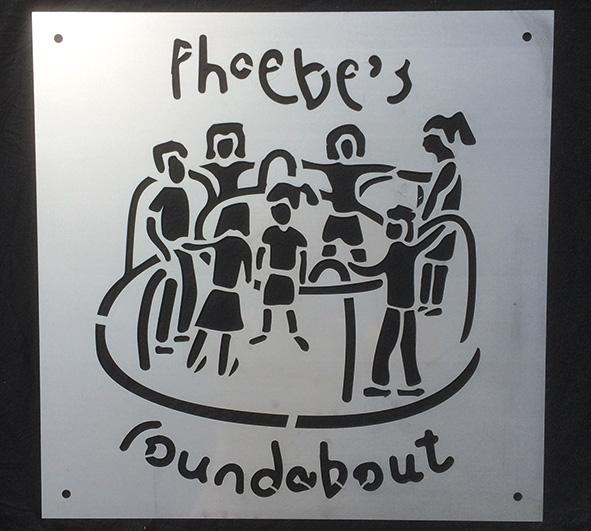 Great British Outdoor Fires
Charity Panel - Various Sizes
Would you like a panel for your charity, to auction off or sell? You could even hang it up in your own garden, see our customer's story below. We can create charity panels with a logo (with permission and logo supplied) for a £10 discount - e.g. a 500mm mild steel panel costs £59 add £70 for stainless. 
This spec is an example size only. We can create a panel in any size you like and any shape, it does not have to be square or circular. A mild steel wall panel is suitable for indoor or outdoor use. However, if it is outside it will gain a patina over time (you could always upgrade to a stainless steel version). The panel is 3mm thick making it sturdy, but not too heavy, and will come with corner holes for ease of mounting. 
We were approached at the RHS Chatsworth Flower Show by a lovely man who wanted us to design his charity wall panel for @phoebesroundabout. We were honoured to design this lovely panel and our Creative Director Kate set about designing it for the laser cutter, no mean feat, but everyone involved was happy with the outcome. It now sits in our customer's garden. Please read his review below. Would you like the same, lovely reminder of your charity?
Once we have designed your charity panel or charity fire pit, we're more than happy to publicise it on our social media networks, with your permission of course, so your charity gets more exposure.
"I met Kate at Chatsworth flower show. I was drawn to the metal plaques with designs cut out of them. I was thinking this would be really good to have in our garden with our charity logo. I spoke to the lady on the stall who turned out to be Kate. It was immediately obvious that she is not only passionate about what she does, but welcomes ideas and can suggest ways in which she can take your idea and work with it as a collaboration. Such a breath of fresh air, I'm so used to being told, what you see is basically it. Any way I felt under no pressure to buy there and then, Kate said she would look at the logo and see if it could be done in steel or stainless steel. Very shortly after the show I received an email with a sketch of what was possible. I was amazed! Apart from one tiny element which can be drawn onto paper, but not cut out, it was perfect. I ordered it in stainless steel. Communication right through was fantastic I really felt important as a customer, so rare these days. In addition Kate's partner phoned me up to ask about where and how I wanted to position it, as they can adjust the size and position of the bolt holes, thereby preempting any future problems. When my plaque arrived my wife and I were thrilled. I will be buying off Kate again for our trustees. I can't recommend them highly enough. Caring professionals. A joy to deal with." R. Casson
---
Share this Product